Stand and Deliver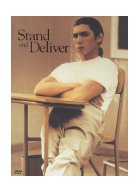 This Movie @ Amazon.com
(From $5.95)
This Movie @ Amazon.ca
(From $CAN 18.00)
This Movie @ Amazon.co.uk
(From £69.94)
Related Products (usually movies and/or books)
No Similar movie Found

BestMotivation.com Visitors' Reviews / Comments
Submitted by Unknown
If you teach, watch this movie. It will help you remember why you started. If it doesn't renew your passion to make a difference, find another job.

Submitted by Unknown
This is a great film about personal and group achievement in the face of adversity. The film amply demonstrates the critical importance of a dedicated teacher in the lives of struggling students. The action takes place in an East Los Angeles high school. The film is based on actual events. I especially like the film because I was living and working in the area when it was made. Several excellent performances, and a great cast overall.

Submitted by: April from USA
This is the only movie I show all school year. It is very motivational and the kids love it. It is great to watch before a standardized test. It helps kids believe in themselves. 10 stars all the way!