October Sky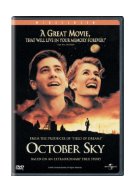 This Movie @ Amazon.com
(From $4.44)
This Movie @ Amazon.ca
(From $CAN 19.43)
This Movie @ Amazon.co.uk
(From £9.71)
Related Products (usually movies and/or books)
No Similar movie Found

BestMotivation.com Visitors' Reviews / Comments
Submitted by: Jen
This movie took me totally by surprise. Stunningly- as the credits rolled, I found myself sitting back and just feeling completely satisfied that finally a movie had touched my heart. It made me laugh, cry, and genuinely care about the characters. I watched it again the very next day, and found myself scouring the net for any imformation I could find on this incredible movie. I would rate "October Sky" the best movie that no one had heard of. Definitely see this one. Your soul will be happy that you did.

Submitted by Unknown
This movie was awsome! It contained alot of inspiration and motivation. Alot of courage to convince a little coal mining town that it could be placed on the map by just a few young boys that had a dream to become somebody and expand their horizons. FYI the one gentleman who at the end of the movie went on to be an engineer for NASA is an awsome writer. I say again it was an excelent movie

Submitted by Unknown
Triumph over discouragers. Boys may relate more than girls. Some good fun and the inherent excitement of a lit fuse.

Submitted by Unknown
One of the most inpiring movies I have ever seen!

Submitted by: Dan from Wisconsin U.S.A.
October Sky is one of the greatest movies I have ever seen. I remember seeing it for the first time when I was about 12. I liked it but i really could not take it in full of what it was worth. A couple years later I spotted it on television and I watched it through. It touched me in so many ways its unbelievable. It made me laugh, it made me cry. The father son point of the movie really brought across personal feelings for my father. I had a lot in common with their relationship with each other. I'll never forget how this movie made me feel. It is truly incredible

Submitted by Unknown from U.S
October Sky is the ultimate motivational movie. The characters and the story speak to the viewer in every way and in every emotion. The entire story sends the viewer to feel a sence of realization that a dream can truly light up the sky. It also sends a message to the viewer that any obsticle can be battled and won if your heart truly desires it.

Submitted by: Swapnil from India
Well, This movie is for those who have the passion to excel in their life, if any point of time in your life you feel low,depressed or you are planning to give up your conviction, My humble request to you, do watch "October Sky" , it's all about Perseverance in order to fulfill your goals and make your dear ones proud of yourself. One of the best movie i have ever seen to boost up the confidence of any individual. Do watch it.

Submitted by: ravi from India
this movie has motivated me a lot... its time to make my dream into reality.....