Think and Grow Rich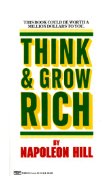 This Book @ Amazon.com
(From $4.97)
This Book @ Amazon.ca
(From $CAN 6.20)
This Book @ Amazon.co.uk
(From £5.18)
Related Products (usually books and/or movies)
No Similar Book Found

Other Books by Napoleon Hill listed on BestMotivation.com
No book found.

Quotes & Excerpts
No Quote Found
BestMotivation.com Visitors' Reviews / Comments
Submitted by Unknown
Think and Grow Rich contains the summary of Napoleon Hills 20 year research for Andrew Carnegie. In it is Mr. Carnegies secret to wealth and any type of achievement you are moving towards. A little know fact is from this book Mr. Earl Nightingale (Dean of Personal Development) found his Strangest Secret and went on to pioneer the audio cassette personal development industry. Mr. Nightingale, Mr. Hill, and W.C. Stone formed their own mastermind group in Chicago to share ideas and help people. The results, services, and benefits to millions was the result. The only means to unusual power in any undertaking (business, family, etc.) can be found in this book, and Mr. Carnegies simple secret. Over 100 yrs of research and application of these principles were carried out by these three men. Why re-invent the wheel - it works - give it a read or a listen on cassette. It just may change your life or help you to serve others as they take their Journey into Meaning.

Submitted by: Greg
Your life will change--if you DARE it to--while you read this book. From the very first pages your heart begins to pound. Within days I quit a job I was unhappy with, started my own consulting business, and everything keeps expanding towards brighter horizons. I wish I heard about this book sooner!

Submitted by: Steve from Birmingham, UK
The grandfather of the human potential movement. It is every bit as brilliant today as it was in the 30's when it was researched and first written and it will be every bit as briiliant again in 100 years from now. Read this before you read the rest then keep coming back to TAGR.

Submitted by Unknown
Simply a fascinating Book. I first bought it in 1987, however its full impact is beginning to show in my life. Be Patient!