The Power of One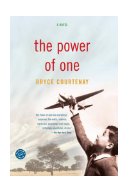 This Book @ Amazon.com
(From $6.68)
This Book @ Amazon.ca
(From $CAN 15.31)
This Book @ Amazon.co.uk
(From £17.95)
Related Products (usually books and/or movies)
No Similar Book Found

Other Books by Bryce Courtenay listed on BestMotivation.com
No book found.

Quotes & Excerpts
No Quote Found
BestMotivation.com Visitors' Reviews / Comments
Submitted by Unknown
This is an amazing book. It moved me to tears, to raucous laughter, and is indeed inspirational. The story is a powerful one, well researched, and very very engaging. The movie version simply cannot compete. An amazing book. (I think i already said that :)


Submitted by Unknown
This is by far the best book I have ever read. With a mixture of historical facts and the turmoils of growing up in the midst of a divided society it has a little bit of everything.

Submitted by: Nicole Gillespie from Australia
This book means everthing to me. "Little can beat big - first with the head, then with the heart....