The Message of a Master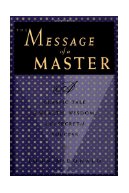 This Book @ Amazon.com
(From $1.99)
This Book @ Amazon.ca
(From $CAN 4.42)
This Book @ Amazon.co.uk
(From £1.26)
Related Products (usually books and/or movies)
No Similar Book Found

Other Books by John McDonald listed on BestMotivation.com
No book found.

Quotes & Excerpts
No Quote Found
BestMotivation.com Visitors' Reviews / Comments
Submitted by: Kuson from Matteson IL, USA
Recently, I took this book off the shelf. I hadn't read it in many years.
The Message of a Master is profound,insightful and classic.
there are a collection of inspirational bookslike this one at: www.harmonyradio.org


Submitted by: michael finnigan from England
I think this could well be the best version of the best book ever written. I came across it many years ago and love its clarity and simplicity.