As a Man Thinketh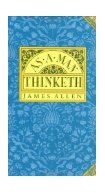 This Book @ Amazon.com
(From $5.85)
This Book @ Amazon.ca
(From $CAN 19.33)
This Book @ Amazon.co.uk
(From £12.24)
Related Products (usually books and/or movies)
No Similar Book Found

Other Books by James Allen listed on BestMotivation.com
No book found.

Quotes & Excerpts
No Quote Found
BestMotivation.com Visitors' Reviews / Comments
Submitted by Unknown
The principles in this book helped turn the life of a homeless man into a millionaire. This book needs to be required reading for every student graduating from High School, together with Clason's "The Richest Man in Babylon."